Salmon with buttered leeks and lemon dressing
Salmon with buttered leeks and lemon dressing – Peter Kane
A simple favourite way with salmon.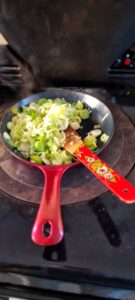 25gm/1oz butter (we use margarine).
4 leeks fresh from the allotment, washed and thinly sliced into circles.
4 x 125gm/4½oz Salmon fillets (skin removed if you prefer)
For the lemon dressing:
2cm/¾ piece fresh root ginger, peeled and grated.
2 x garlic cloves, crushed.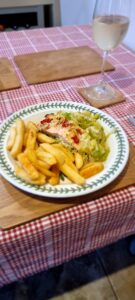 1 small red chilli, seeds removed and finely chopped.
2 table spoons lemon juice (Yuzu juice if you have it).
4 table spoons light olive oil
Salt and freshly grated ground black pepper
To garnish:
Small bunch coriander 
Radishes thinly sliced using a vegetable peeler 
Preheat oven 200⁰C/180⁰F
Heat the butter in a large frying pan, add the leeks, fry for a few minutes. Lower the heat and cook for 15 minutes, or until soft but not browned. Tip into an oven proof dish or roasting tin.
Put the ginger, garlic, chilli, lemon juice, oil and salt and pepper into a bowl and stir.
Reserve 2 tablespoons of this dressing. Sit the salmon fillets on top of the leeks, season with salt and pepper and spoon the dressing over so the ginger and chilli is on top.
Bake for 12-15 minutes, or until the fish is just cooked.

 

Toss the coriander and radishes in the reserved dressing. Spoon the leeks onto

 

the plates and top with the salmon. Pile the radish and coriander on top of the salmon.
This is a simple but very delicious dish