May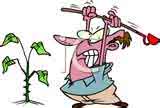 KEEP HOEING
Prepare runner bean supports and framework.
Put straw around your strawberry plants.
It can still be chilly so don't forget to harden plants off before planting them out.
Mulch soil to retain moisture; you can use newspaper, grass cuttings, leaf mould and straw.
Sow outdoors; Beetroot, cabbages (autumn), calebrese, carrots, cauliflowers, chicory, courgettes, French beans, lettuce, marrows, peas, pumpkins, radish, runner beans, spring onions, swedes, sweetcorn, swiss chard, squash.
Plant out; Leeks & brassicas that have been grown in greenhouse and hardened off outside.
Eat this month; Asparagus, cabbages (spring), lettuce, radish, rocket.
Top Tips; Water soak marrow and courgette seeds overnight for a good start.
Straw can be used as an insulator and also as a slug deterrent.