November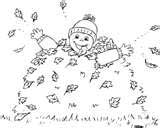 Rake up your leaves and put them in the leaf mould container.
Lift the remainder of your carrots and parsnips for storage if you aren't going to leave them in over winter.
Dig up your rhubarb, split and replant.
Put a net over any winter brassicas
Continue with your winter digging and adding organic matter.
Plant broad beans, garlic, hardy peas.
START ORDERING SEEDS ETC. READY FOR NEXT YEAR.